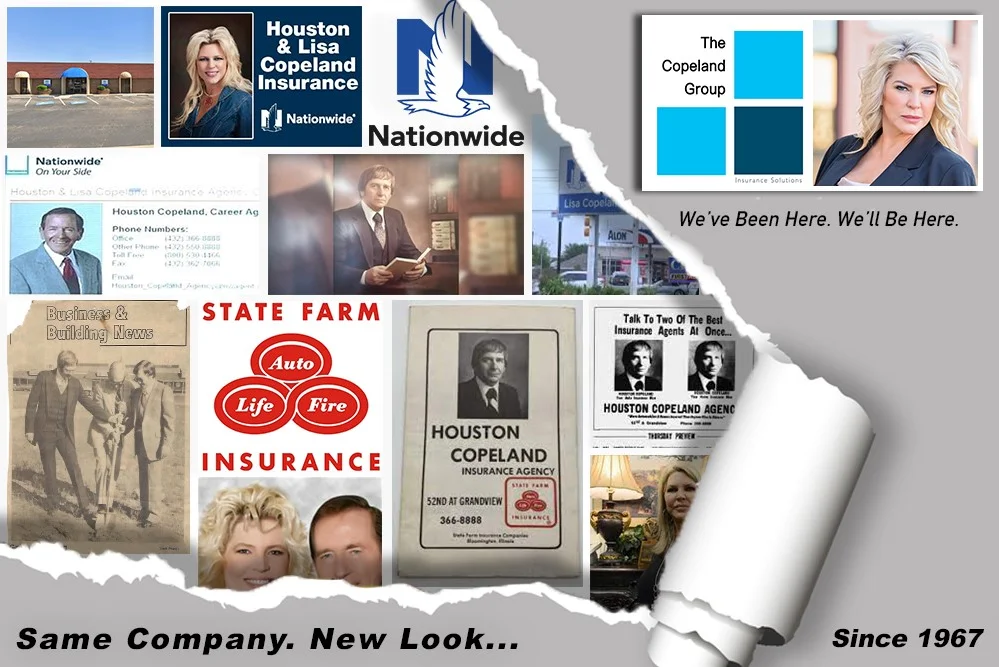 Most of our wonderful clients know us as Nationwide Houston and Lisa Copeland Insurance Agency, providing service locally in Midland-Odessa, San Angelo Texas, and state-wide insurance solutions.
Our story began when Houston Copeland arrived to West Texas as a young man with a big entrepreneurial spirit looking for a business opportunity.
He tried several things until he started working in the insurance business and his success was such that he opened up his own agency in 1967 under the State Farm umbrella. For the following 30 years he provided insurance service and employment to West Texans. Later in 2001 he created a partnership with his beautiful wife Lisa, and together they worked as double agents for Nationwide in 2003.
After Houston's death in 2011, Lisa continued on with this strong legacy as Lisa Copeland Insurance, holding strong in Houston's #1 objective: caring for our clients. Later in 2020, she became an independent agent giving birth to The Copeland Group new name and logo.
What makes us different?
We are a fully equipped insurance agency with two locations, one in Midland/Odessa and the other one in San Angelo, Texas. We understand the times and trends that impact our rates and most importantly the needs of our clients.
We work with many companies like Nationwide, Safeco, Progressive, Travelers among others, providing you the best fit for your needs and the comfort of only dealing with us and not every individual company on your own. We are here for you 100% offering you service in customer care, claims, sales and bilingual Spanish agents that are ready to assist with whatever concern you may have.
Follow us on Facebook and stay up to date with safety tips and information on insurance discounts and how much we love our community.
We are here for you, we will be here for you.